Solve for Tomorrow: Urban Environmental Protection
Ended Thursday, June 30, 2022

Solve for Tomorrow: Urban Environmental Protection
How do you envision your future? What role will technology play to build a better and more sustainable future? Collaborate with Samsung to make your ideas about the future society real! We support you in bringing your idea that benefits our society and our environment to life.

WE INNOVATE TOGETHER! Sign up for our free Design Thinking Workshops (Monday, June 20th & 27th) via the tab submission now.
Congratulations to Street Lightelligence, Ceres and Greentech Engineers

€ 22,500 prize pool + Samsung accelerator program "IMPACT-Phase" + product prizes
Status Quo:
There is no doubt that we are currently living in a time of significant challenges. In addition to geopolitical conflicts and a never-ending pandemic, the challenge of global climate change and environmental protection has partly been pushed back in the global agenda. Even if the topic is currently partly overshadowed, the younger generation duly recognized that it is undoubtedly one of the greatest, if not the greatest, challenge that will accompany us in the coming decades. Therefore, it is the task of all of us together to protect livelihoods such as forests, water, and biodiversity for current and future generations and to help them recover and regenerate.
The topic of environmental protection and the associated consequences of climate change are extremely diverse and affect almost every single area of our daily lives. Our daily lives are shifting more and more into urban areas. At mid-year 2021, an estimated 4.5 of the world's 7.9 billion people lived in cities. That corresponded to 57 % of the world's population. Tendency rising. Accordingly, environmental protection must also be an integrated part of every aspect of our city lives.
While Gen Z is reminding us how important it is to conserve our environment and fight against global warming, we need to listen. Listen to the ideas, challenges and sparks that come from our future generation.
Challenge:
Our world has many challenges. And like many great challenges, they often seem overwhelming and almost unmanageable when seen only as a whole and not in its individual components. Therefore, we call upon you to consider the problem of environmental protection especially in the context of urban developments. We call upon you to develop solutions that identify the specific small and large problems of the urban population in relation to environmental protection and to develop workable solutions. Every small step contributes to addressing the overwhelming challenge of climate change.
You are the generation that had to adjust to the Covid situation from one day to the next and that invented new ways of living. That changed the way we live and feel cities. Workplaces have completely changed, mobility in cities goes toward a sharing concept and environmental protection takes place in every little step you take day by day. Your future is in your own hands! Choose your challenge, choose your team. We are here to give you everything you need to make your idea reality.
This is your chance to change society and our environment for the better! What are the problems that keep you up at night? What is a society you want to live in like? How can you use technology to facilitate real change? We want to make your voice heard!
Your team unites different skills, talents, and perspectives? Even better, the best ideas come from diversity. We are looking for great ideas. No experience needed. No qualification required. No matter who you are. The only thing that counts is your idea. Do you know how to use technology for our environment? How to shape your future? Then we are looking for you!
Examples:
To give you some inspiration and guidance, we developed the following examples. Please note that these fields of action and questions a meant to be for inspirational purpose. You can also select other topics regarding Urban Environmental Protection.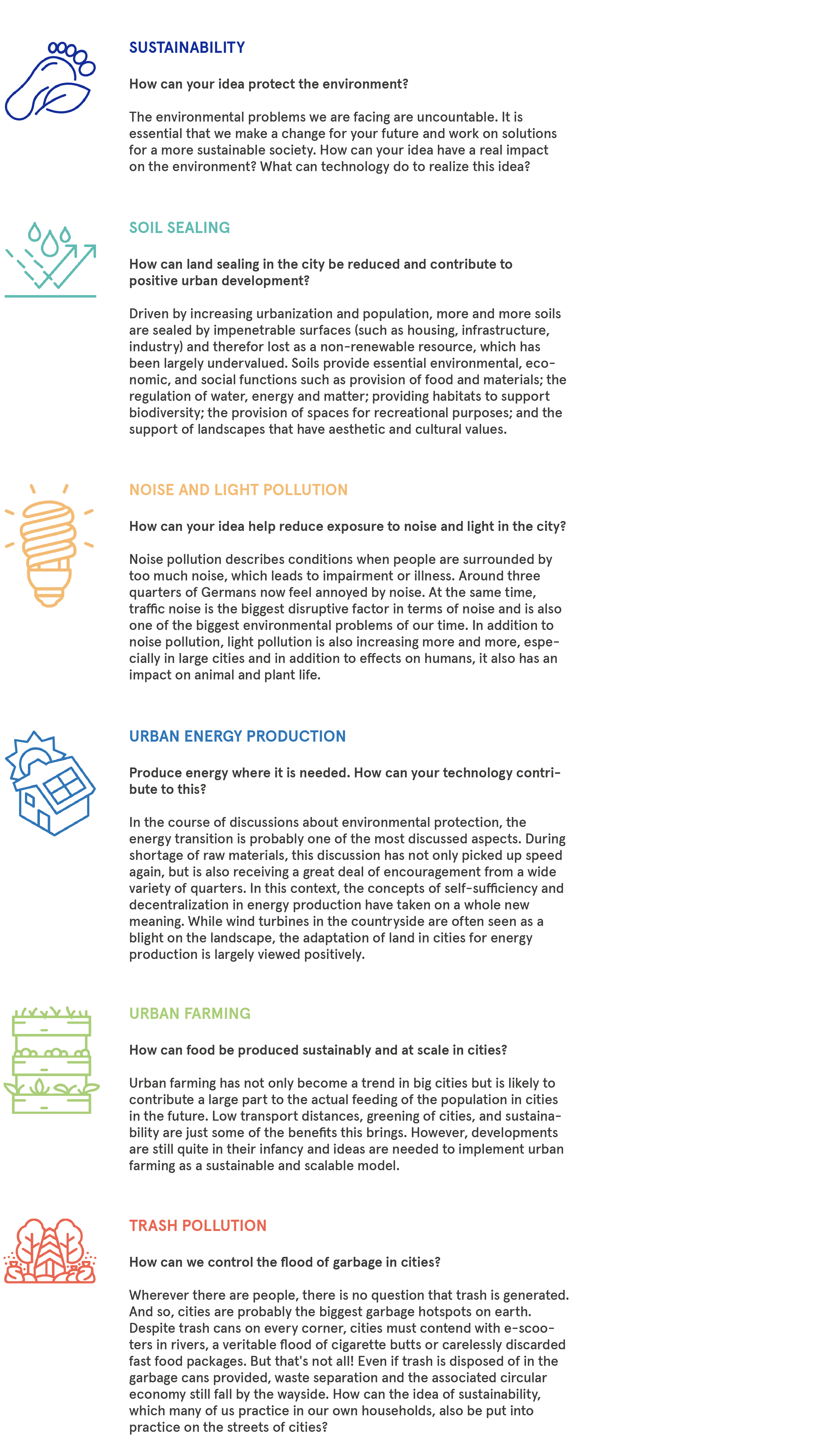 More detailed information and inspiration can be found in the important details tab. More guiding and inspirational key questions and the submission template can be found in the submission tab.
Note: The examples are not completely distinct from each other. Always think about possible combinations of the examples to find even more interesting and innovative approaches!
Legal procedure
No rights to solutions or submissions are transferred or granted as part of the Challenge. Please note the following: Prize money as part of the project is linked to participation in the IMPACT phase from Samsung's Accelerator Programme.
All binding information can be found in our terms of participation.
© 2018-2022 ekipa GmbH. All rights reserved.